The Mermaid of Black Conch by Monique Roffey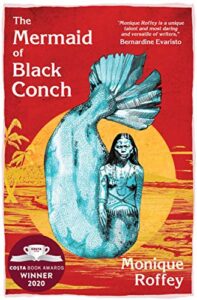 David Baptiste is a Rasta fisherman chilling on his pirogue, joint between his lips, twanging away on his guitar, when a mermaid pops up out of the sea. She's no pale, glossy-haired Disney siren. Aycayia is a mighty, thousand-year-old woman with an ancient soul, barnacled-covered dreads, spikes on her back, tattoos on her torso and hands frilled with webbing. And her tail! Metres of muscled silver.
We learn that she once belonged to the indigenous Taino people and was cursed by jealous women of her tribe to be a mermaid forever. David plays his guitar for her. Aycayia lolls about in the waves and sings for him. Music is their language.
Then two Americans capture Aycayia after an epic life-and-death battle and hang her upside down as a trophy in the island port. The local fishermen are horrified and instinctively know this majestic creature belongs in their waters, not on the end of a foreigner's hook. The Americans see dollars, Smithsonian fame and a Time cover, and refuse to return her to the sea.
Deep in the night, our guitar-playing, dope-smoking fisherman rescues his beloved mermaid and hides her in his home where the curse slowly loses power and Aycayia becomes human again. After centuries of loneliness, she finds love in all its lusty glory. The story ramps up. The American fishermen want their catch back and certain islanders want this bizarre creature gone.
It's beautifully written, layered with tough themes of race, sex, greed, cruelty of man, cruelty of women, colonialism, freedom, love. The writing toggles between David's singsong Creole English and Aycayia's own thoughts, written in the form of exquisite free verse.
Folklore meets reality. Hypnotic, haunting, unforgettable.
Snippet:
Monique Roffey finished writing this novel in 2017 but was turned down by every big mainstream publisher, until independent Peepal Tree Press snapped it up.  The rest is history. In 2021, The Mermaid of Black Conch won the Costa Book of the Year award!