The First Safari: Searching for François Levaillant by Ian Glenn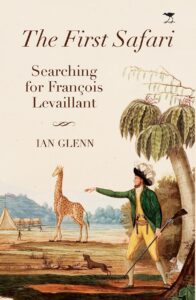 Are you a birder? Do you love the bush? Are you curious about South Africa in the 1700s? Did you know a Frenchman gave the bokmakierie its name? Maybe you just love this cover?

A yes to any of those and you HAVE to read this book.
Writer Ian Glenn (prof at University of Cape Town, South Africa) spent a huge amount of time in the dusty dungeons of Parisian museums during his 25-year mission to get to know explorer and birder François Levaillant.
So who the heck was Levaillant?

He was born in 1753 in Dutch Guiana to French parents, ended up in the Cape when he was 27, and wrote about everything he saw and experienced. His books were international bestsellers, translated into SEVEN languages. Not bad for the late 1700's.
Ian Glenn describes how Levaillant immersed himself in the Khoisan culture with open-mindedness and respectful interest – two highly unusual traits for Europeans who saw the local African population as dangerous and violent. Levaillant was scathing about Dutch colonial expansion and their deviousness in stealing Khoikhoi land. He was equally furious about the foreign invaders' use of terror and violence to dominate the locals. Young as he was, Levaillant was way ahead of his time.