Available in five languages!
---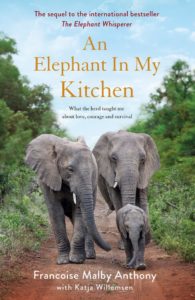 An Elephant in my Kitchen follows Lawrence Anthony's international bestseller The Elephant Whisperer after his untimely death in 2010.
When you write fiction, it's all in your own head, so writing someone else's memoirs presented a very exciting challenge. I became part-journalist, part-investigator and part-shrink as I pulled together threads of information from many different sources.
I fell in love with the vulnerable little orphans whose carers fought so hard to save their lives. There is nothing as jubilant as a running, trotting, bouncing, healthy baby rhino or ellie!
Françoise Malby-Anthony gave me complete writing freedom – from developing the flow of the book to choosing which stories to include. We live ten thousand kilometres apart so regular meetings weren't practical and WhatsApp became indispensable! I would WhatsApp questions and often received her audio replies within the hour.
The Thula Thula team, carers from the rhino orphanage, visitors and friends of Thula Thula also gave so freely of their time, memories and experiences. I couldn't have written as rich a book without them!
I hope you love An Elephant in my Kitchen as much as I loved writing it, and that you, too, will have your eyes opened to the dangers facing these magnificent creatures.