An Elephant in my Kitchen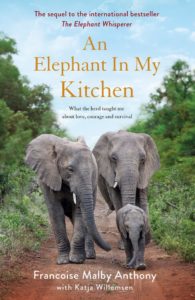 An Elephant in my Kitchen is the memoirs of Françoise Malby-Anthony and her life at Thula Thula game reserve after her husband died in 2010.
It was a great challenge to write. I became part-journalist, part-investigator and part-shrink as I pulled together threads of information from many, many different sources.
The Thula Thula team, carers from the rhino orphanage, visitors and friends of Thula Thula, all contributed their experiences and thoughts. I could not have written the book without them.
I spent hours watching YouTube videos of elephant and rhino behaviour. I fell in love time and again with the vulnerable elephant and rhino orphans as their carers fought for their lives. There is nothing as jubilant as a baby rhino running!
Luckily Françoise gave me great writing freedom – from developing the flow of the book to choosing which stories to include. WhatsApp was indispensable. We lived ten thousand kilometres apart so meetings weren't practical. I would WhatsApp questions to her and within 24 hours I had my answers and very quickly built up a rich library of information to weave into the book.
I learned so much about conservation and the terrible future of elephants and rhinos. I hope you enjoy the book and that you, too, will have your eyes opened to the dangers faced by these magnificent creatures.
Read the reviews on Amazon here